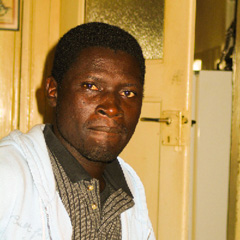 Born in N'Djamena, Chad on the 25th of January 1980, Anicet is a great and engaged artist in his country. He was the leader and singer of the Band "Warriors" and other projects since he moved to Switzerland in 2002 to learn cheese making. It's during this period that he linked up with some young musicians from Switzerland and started playing reggae in a band called "Askaar System" (featuring Buta & Astrolab), which toured the country during years until he had to go back to Chad for develop and run a cheese dairy in N'Djamena and then bring a way to help increase development in his country.

Anicet's songs are mostly written in a dialect close to arabian language that is called "chadian arab", which makes his songs not understandable by every one but doesn't prevent to feel his energy and positivity through his nice melodies, coming from a rich tradition of chadian music.

Now that he lives in Chad, we can work with him only one time every two years for some days when he's back in Switzerland for few weeks. That's why we don't have a lot of recordings from that unique artist.

Some more tracks will be released in 2018, so if you like his unique style, be patient, you'll be rewarded.