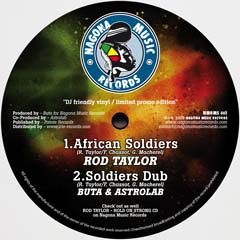 African Soldiers 10" vinyl is a promotional record, in collaboration with Irie Records, Germany, for the promotion of Rod Taylor's album "Hold On Strong". Released shortly after the album, it was pressed at only 300 units, with a "DJ friendly" label on it.
On the A side, you can find "African Soldiers" and its Dub "Soldiers Dub" by Buta & Astrolab and on the B side, you have the pure roots track "Its' Alright With Me" in its showcase version.

Deep Roots Music, only few examplaries left. Order it on our webshop, use the link below or browse the album to get the digital tracks.