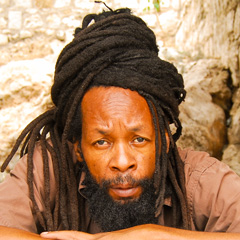 This is Errol Organs from Trench Town, Kingston, Jamaica, home of Roots Rock Reggae Music.

A very humble, but talented Singer, Songwriter, Composer, Producer and Arranger. He has produced, arranged and composed such famous Riddims as « Federal » & « Rebel Reggae » which boasts such Artists as Capleton, Anthony B and many more.


In 2002, Errol Organs received the « Bob Marley Memorial Award » for excellency in Reggae Music in Toronto, Canada.
He has also toured in Canada, The American West-Coast, Sunsplash (Jamaica), Africa, and Europe (Poland, France, Switzerland, Holland).


About Errol Organs, a journalist once said, « He should be the lead singer of the Wailers Band, as there is no other Artist like him in the world right now ». His God-father, Vincent « tawta » Ford (author of « No woman no cry », « Rastaman Vibration », « Roots Rock Reggae » & « Crazy Baldhead »), once said after seeing him performed, « Organs yuh bad, in a group or solo, yuh bad ». No wonder the late Cedella Marley had him as her protegé, because he constantly reminded her, of her son Bob Marley.


The clearness and sweetness of his voice, will leave you in a trance, leading you to believe that it is not he himself, but bears the burden of a legacy within the footsteps of the man he now follows.