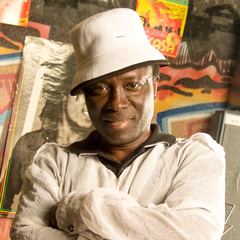 Together with the likes of Horace Andy, Delroy Wilson, ken Booth, Dennis Brown, Barry Brown, Sugar Minott, Barrrington Levy and Linval Thompson, Rod Taylor was among the first generation of Jamaican singers to make their reputations on sound-system, as opposed to records or stage shows. In this sense, he's every inch the dancehall singer, even though he's long specialised in conscious themes, and the music he recorded back in the late seventies still plays in roots dances the world over.
Except for a brace of albums recorded in London for Robert Tribulation's, Jah Warrior, Donville Davis during the mid-nineties, little had been heard of this reclusive singer for nearly two decades. Recognizing not only his talent, but also his capacity to return as strong as ever, now Rod teamed up with Mafia & Fluxy, Sly & Robbie and musicians from Fribourg-Switzerland (Buta & Astrolab) for an album of storming new roots anthems that'll put Rod Taylor right back where he belongs; i.e. in the roots reggae mainstream.
"Hold On Strong" is a roots album, including one track in showcase version. This is a style unique to reggae and in one that still conforms closest, to the spirit of original sound-system. To say this format suits Rod Taylor down to the ground is an understatement the perfect marriage of vocals and dub. For today's audiences, it gets off to a flying start with "Storm", voice over a blazing rhythm recut and replayed by Buta & Astrolab in Constrictor Studio, Fribourg-Switzerland, originally played by Sly & Robbie, that has assumed mythological proportion in reggae circles ever since. There are ten more songs of that same high quality included here, all of them evoking the magical sound of the late seventies. - Channel One and like the late King Tubby's era, Seriously heavy weight roots music ruled the dance and Rod Taylor himself was at the height of this early power thanks to some deeply spiritual and lovers lyrics and a quavering vocal style, Rod Taylor's roots credentials are impeccable to say the least.
Born in Trenchtown, Kingston 12, Jamaica W.I. on the 2nd day of March 1957, he was known as Rocky T (also "Rock-stone") as a child after his mother had given birth to him on the kerbside. From the age of twelve, he was singing on that same street corner and entering local talent competitions.
After auditioning for the likes of Coxsone Dodd and Joe Gibbs,
he then sang in a band called the Aliens with Barry Brown before recording his debut songs, "Bad Man Comes And Goes" and "Every Little Thing", for Ossie Hibbert.
Encouraged by Sugar Minott and Tony Tuff of the African Brothers, he soon gained popularity on the Kingston dancehall circuit, with such renowned sound-systems as Kenyatta, Tippatone, Socialist Roots, Gemini, Kilimanjaro, Sturgav, Youthman Promotion and Stereophonic (where he shared a mic with the late General Echo) all welcoming him to their control towers.
A clutch of classic tunes for the Freedom Sound label circa 1978 – including "Ethiopians Kings", "In The Right Way" and "Don't Give It Up" – then brought him to wider prominence and paved the the way for further studio recordings produced by the late Prince far, Prince hammer, Don Mais, Manzie's
and JBC radio announcer Mikey dread, for whom he voiced the unforgettable "His Imperial Majesty".
An album recorded for Sugar Minott's Youth promotion label remains unreleased to this day. Rod's debut set therefore "If Jah Should Come Now", which appeared on the Little Luke label in 1980. That same year, Greensleeves issued an album called "Where Is Your Love Mankind". He then recorded songs for Papa Kojak, Ganja Farm and tad Dawkins and also turned in a memorable performance at the 1981 Jamaica Reggae Sunsplash before disappearing into the Jamaican countryside to turn farmer. Little was heard of him again until a producer from Kingston named Plexie financed an album called "One In A Million", which promptly sank without trace due to lack of promotion.
Rod claims that changes in the music inspired this period of inactivity, and especially the rise of slackness as epitomised by Yellowman. The truth is that he'd become demoralised with the business side of things, and rather than hustle his gifts indiscriminately, preferred to wait until the right circumstances manifested themselves.

Now he had moved to Europe where he resides ever since. France of course, is now a major market for reggae music, and armed with such strong comeback albums like "Trust In Jah" and "Hold On Strong", Rod Taylor is now better positioned than at any other stage of his career to embrace the legendary status his talent, and also a growing number of new fans have long since awarded him.